Save and gain with Touching Hearts NYC's Westchester in-home Care
Home-care agencies ' pleasant surprises for those considering an in-home caregiver are cost savings and a whole range of benefits. All you need to do is ask
An advantage of care at home for the elderly in Westchester County, New York, is its low cost by comparison with care in a facility outside the home. And that cost-saving comes only with added benefits.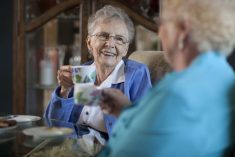 Home-care agency Touching Hearts at Home NYC often surprises families seeking care for seniors in Westchester when the cost-saving is explained. In fact, the advantages of a home caregiver for the elderly are manifold and go way beyond just being affordable care.
The primary advantage is that to stay in their own home is what most seniors want in Westchester and all areas of New York served by Touching Hearts NYC. It's just part of maintaining consistency and a sense of independence for people as they grow older. The elderly can maintain a routine, but may need help to complete tasks at home or outside the home safely when family members are not available. That is where live-in care or a visiting caregiver assigned by Touching Hearts NYC will meet every need.
A live-in or part-time caregiver can also prevent loneliness and provide companionship for seniors at home in Westchester, as well as help them to maintain social activities and attend appointments outside the home. Touching Hearts NYC's well-trained professional caregivers accompany seniors in their care to ensure they get to do what's necessary as well as what makes them happy – and all while staying safe.
Getting around can also present challenges for the elderly. That's covered too, as Touching Hearts NYC's caregivers provide transportation to and from social visits, events, and appointments.
Nutrition is important for aging adults, and the Westchester home-care agency's caregivers can make sure seniors in their care get the meals they need. However, the seniors also get to take part in the decision making. What's on the menu will be decided by consultation.
Touching Hearts NYC can also be the means just to allow some time off for Westchester family caregivers who need to recharge their batteries or have some other task to perform. The home-care agency can tailor home care to match the needs of the client. Care can be provided for just a few hours a week all the way up to full-time 24-hour live-in care.
Whether you need just a little light housekeeping or live-in care for your elderly loved one, the beauty of Touching Hearts NYC's affordable service is that it can be fully customized.
It is unlikely that the cost of home care for the elderly will be a primary concern for those considering the service, but it is prudent to compare the price and the nature of both home care and care in a facility. This may be especially relevant at a time when the cost of care may increase to reflect a recent increase in the minimum wage and the introduction of a new sick-leave law in New York State.
Touching Hearts NYC can help families make wise choices. When a senior is not ready or not in need of a long-term care facility outside the home, the agency's home caregivers are the answer. Home care can be tailored to your needs and means, be more suitable and cheaper than care in a facility, and enable seniors to save money to fund long-term care if it becomes necessary at some time in the future.
About Touching Hearts at Home NYC Area
About Touching Hearts at Home NYC Area – Touching Hearts NYC offers in-home care to aging adults, seniors, and individuals living with medical conditions and disabilities at rates considerably more affordable than care outside the home. The agency is known for Non-Medical Home Care, Companionship and Homemaker services in New York City's Manhattan, Brooklyn, Westchester, Queens, and Rockland areas. Its focus is on providing person-centered care to help those in need remain in their home, maintain the lifestyle they choose, and feel confident they will be treated with the respect and kindness they deserve.
PRESS CONTACT
NAME Craig Sendach
PHONE +1-212-201-6139
WEBSITE https://www.touchinghearts.com/nyc/