Walls Launches Book Mapping Out New Approach to Healthcare
Award-winning businessman Etan Walls releases The Mega Factory of Healthcare on March 12. His book offers how the healthcare machine can be re-tooled for the future.
Senior corporate executive Etan Walls will release his keenly-anticipated book "The Mega Factory of Healthcare" on March 12. His book will be available via Amazon: https://amzn.to/38iz9cD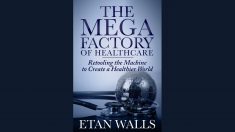 It dives deep into how the current healthcare machine ticks, and how a reader, knowing the system's landscape, can empower themselves within it. He has designed a seven-point plan to address inefficiencies in the system and how these actions can allow the system to function more effectively in the future.
Walls is well placed to discuss the system's future needs, having three decades' experience within healthcare organizations. He has handled operations, clinical delivery, and technology well-equipped to critical thinking and a big picture strategic approach, making him a trusted strategic advisor to organizations across the healthcare spectrum.
"The Mega Factory of Healthcare" brings all his knowledge, experience, and that of his colleagues on the frontline, patients, and even politicians, to bear. He details what is wrong with the system, what works well, and offers a different approach to what most people see as an often complex, labyrinth.
Through the consumer's lens, he explains what lies behind the medical rates charged, why they vary from patient to patient for the same procedure, and the right questions to ask.
In his foreword, Walls said: "From the first point of contact to the procedure and its recovery, the American healthcare system combines so many clinicians, professional staff members, and organizations, it becomes easy to feel lost.
"The administration is so complex, with regulations built upon years of changing legislation, it can seem almost impossible to chart a course from patient to treatment."
He added: "Everywhere I go, from boardrooms to family gatherings, people are dismayed by the healthcare system. I want to explain to my friend why the mechanics behind payment rates matter and how anyone can minimize their health risks with one simple step.
"As someone who is steeped in the healthcare industry and can see both the nuances and benefits for the American people, I feel I have a duty to help improve the system."
The 14-chapter 239-page book includes a foreword from the author and is broken into three parts – Why We Are Where We Are, How The Market Moved, and Blueprint For The Future– How We Can Fix It.
While his inspiration to improve the healthcare experience comes from his mother, a career nurse, Walls has garnered many awards during his career, the latest in 2019 when he was recognized as one of New York's top businessmen during the Kings of New York Awards and Networking, an award for those who led by example and positively impacted their communities.
Walls is principal of Strong Walls Consulting, and held volunteer positions as president of the Centricity Healthcare User Group, mentor at Blueprint Health, and been an advisor to healthcare technology startups. He gained his Bachelor of Science in Information Systems degree from Yeshiva University.
PRESS CONTACT
NAME Etan Walls
PHONE +1-917-204-8553